DPI

stands for

D

ots

P

er

I

nch. This expresses the relationship between the pixels in the image and output of that image, often on paper, in the real world. For instance, If an image is set to 100

DPI

, and it is 700 pixels wide and 1000 pixels high, then it will print out seven inches wide and ten inches tall.

Sometimes it's not quite that simple. Images actually have

two

DPI

settings; one for the horizontal dot size relationship to output, and one for the vertical dot size relationship to output. If these values are the same (as is normally the case), then the pixel is square; that is, it's exactly as wide as it is high. But there have been cases where this was not true. Watch out for those.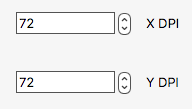 X and Y

DPI

settings in

iToolBox