Operators Dialog
/
Operator Details
§ 12.11.27 - DPI
Scripting command: dpi [xDPI=1-3200] [yDPI=1-3200]
Note:
All available scripting operations are listed on the
Script
operator page.
Note:
The script command
sets
the image's
DPI
. The image's
DPI
may be obtained from the preset variables
m_xdpi
and
m_ydpi
.
Here's how to change only one of the two values:
dpi 72 m_ydpi:# Only change xdpi
dpi m_xdpi 300:# Only change ydpi
Applies and reads DPI from the active image.
DPI means "Dots Per Inch." DPI sets the relationship between image pixels and real-world space. For instance, when you print an image, if it is 300 DPI, and the image resolution is 900 wide by 1200 high, it (should) print out as a 3 inch by 4 inch picture on the page.
The DPI operator lets you set the horizontal (x) DPI and the vertical (y) DPI individually; but in typical circumstances, they should be the same. The operator tries to help you with this by setting the Y DPI whenever you set the X DPI.
If you need to set different values for X DPI and Y DPI, just set X first and then Y.
A new DPI setting is applied when you press Apply, or when you make any area selection on an image in ✓ Modal area selection operation, or when you press Apply in ✓ Modal area selection operation.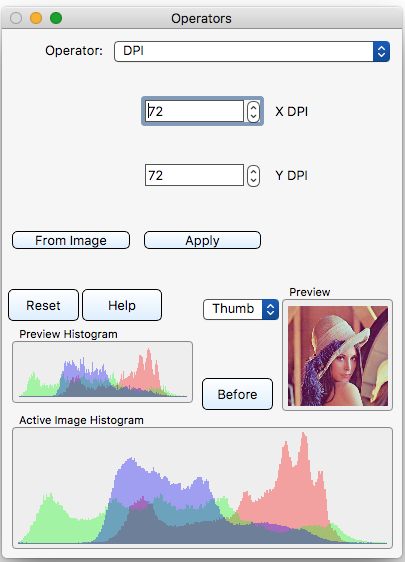 The

DPI

operator
Document Keyboard Navigation
---
,
Previous Page
.
Next Page
t
TOC
i
Index
k
Keyboard
o
Operators
g
Glossary
c
Changes

This manual was generated with wtfm
wtfm uses aa_macro and SqLite
wtfm and aa_macro are coded in python 2.7
iToolBox 3.12
This Documentation and Associated Application Executables are Public Domain